Starting February 2018, those applying for Australia's student visa will have to show more funds to prove that they have sufficient funds available whilst undertaking studies in Australia.
Australia requires applicants from certain countries applying for student visas to have enough funds that is genuinely available to pay for course fees, travel and living costs for the student and their accompanying family members while in Australia.
According to the Department of Home Affairs, the cost of annual living amounts will increase on 1 February 2018 – the increase will start at around 2.3% and in line with Australia's consumer price index (CPI). From this date, every application where evidence of funds is required should include the updated cost of living amounts in calculation of funds available.
From 1 February 2018:
Main Student or Guardian: $20,290 (up from $19,830)
Partner or Spouse: $7,100 (up from $6,940)
Per Child: $3,040 (up from $2,970)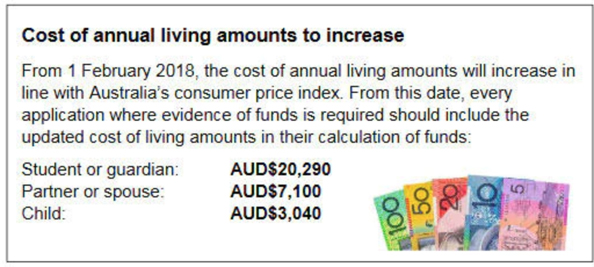 As evidence of financial capacity, international students are asked to provide either:
evidence of sufficient funds to cover travel costs and 12 months of living and tuition fees for themselves and accompanying family members and school costs for any school aged dependants, or
evidence that their spouse or parents are willing to support them and they have an annual income of that meets the requirements.